stories
Making civic participation accessible for all
How the Center for Civic Design is improving the voting process through design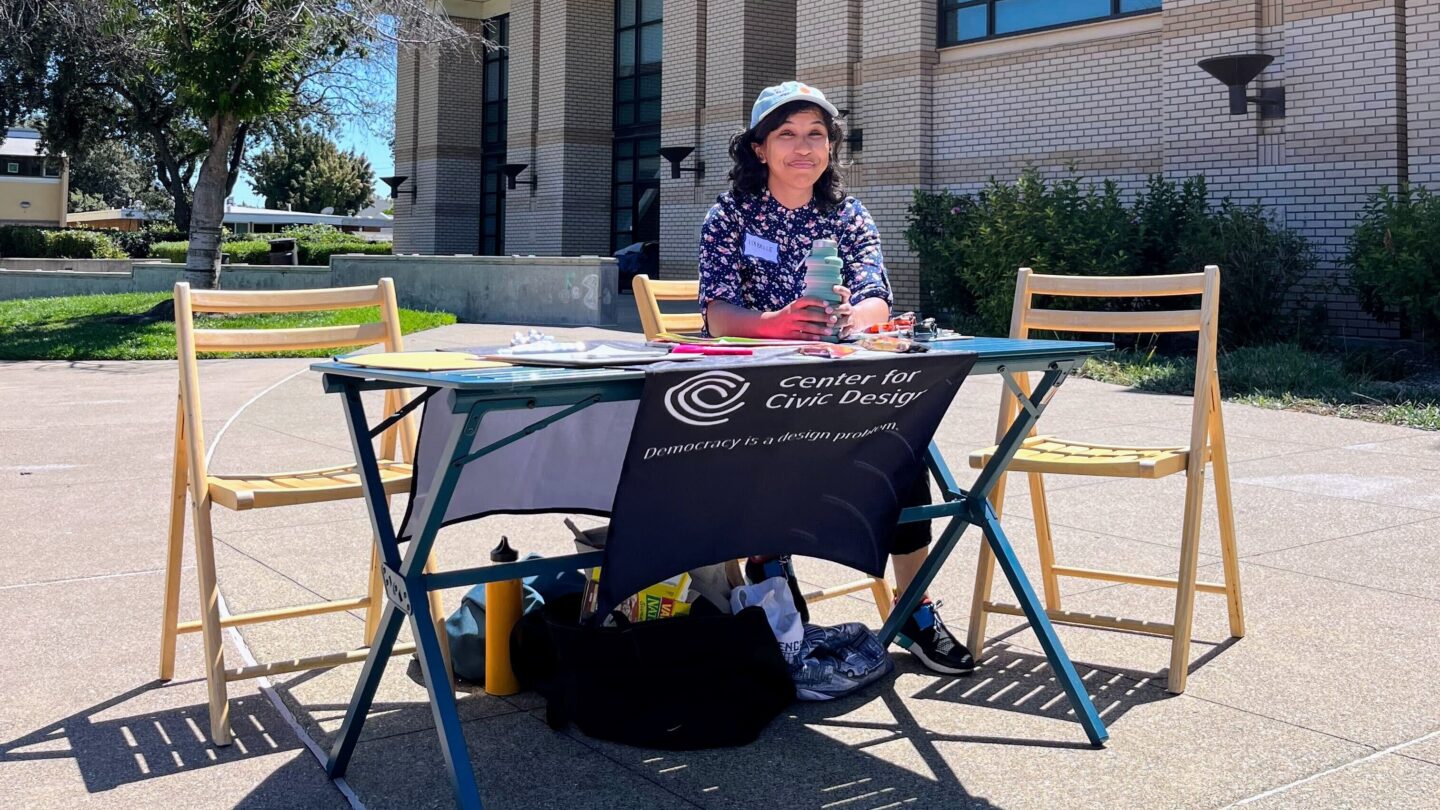 In our democracy, how can we invite more to participate? This is the question at the heart of every project the Center for Civic Design (CCD) takes on. Their team dedicates their time to researching, designing, and sharing ways to make civic participation more accessible for all.
Through their work, they've seen just how quickly communities today are changing. As demographics and needs shift, the institutions meant to serve them need to evolve too.
"Communities have changed rapidly in the last 5-10 years," shares Isabelle Yisak, a design researcher at CCD. "Leaders should be re-examining their processes and services they offer to make sure they're still serving the community as a whole."
For instance, in many cities the population make-up is changing—with shifts in median age, demographic distribution, and size. People's relationship with technology and social media is shifting too. Digital outreach strategies that worked even 5 years ago may not be relevant in reaching young potential voters.
Are the services you offer serving all the voices in your community? Isabelle and the CCD team share ways leaders can use human-centered design to include more people in civic life.
the role of design
Design is a powerful tool when it comes to civic participation. Through words and pixels, good design can help illuminate avenues for participation, guide people to engage, and ensure more are included by using clear language that all can understand.
Over the past 10 years, CCD has been exploring ways to improve the voting process through design and language. Their work has spanned from ballot design to voting guides—all with the goal of getting more people to participate.
One example is a pocket voting guide the CCD team created to shine light on the voting process for newly naturalized citizens in Massachusetts. Through interviews with newly naturalized citizens, the team uncovered a number of challenges faced by this group. Many had questions around how to participate, what to expect, and how to learn more about candidates and issues. CCD conducted research and prototyped several new ideas—ultimately creating a voter pocket guide that provides a quick primer with need-to-know information for new naturalized voters. It's a one-page, printable document that can be folded into 8 smaller "pages''. Each page contains bite-sized information, written in clear, plain language, to help voters navigate the process.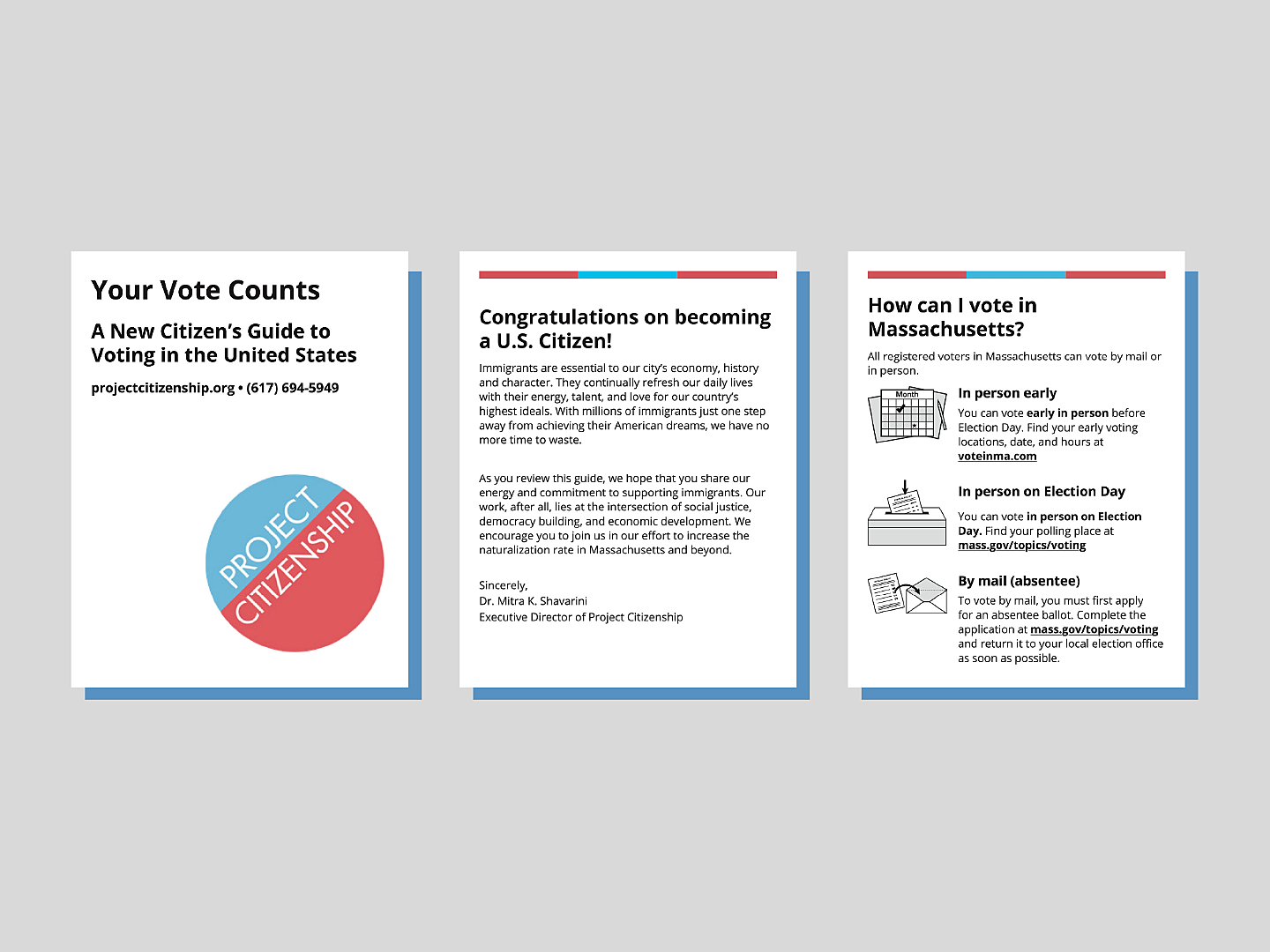 more avenues to join in research
Research is a fundamental part of the design process. The more voices and perspectives that get lifted up during it, the more inclusive the final outcome can be.
Though any research is better than none, traditional research methods can often be biased towards certain groups and exacerbate the digital divide.
"It's great that you can do testing over Zoom and recruit on Craigslist," explains Sean Isamu Johnson, a plain language expert at CCD. "But you're really narrowing the type of people who you're going to talk to."
To help solve for this, the CCD team also uses a method called "in-person intercepts," where they intentionally find and speak to people who may not be as digitally-connected.
During intercepts, the team approaches people in different locations across a city or community for impromptu conversation. Each intercept typically lasts 15-20 minutes, and participants are paid for their time. The team might visit public libraries, farmers markets, commuter stations, or even Starbucks. They also look at Department of Housing and Urban Development maps to find areas where lower income community members live—because theirs are the voices that traditional research methods often miss.
challenging your expertise
The team recently conducted intercepts for a project alongside the League of Women Voters of California, a nonpartisan, grassroots organization in California. The aim was to improve the league's "Easy Voter Guide" to help residents understand the state's numerous ballot measures more clearly.
For their research, the team rewrote the guide's ballot measure explainers using plain language best practices. They then had intercept participants read the explainers and probed for understanding.
Through their conversations, the team learned that simply applying plain language guidelines wasn't enough. Even though plain language was important, voters were still misled by confusing concepts, irrelevant background info, and vague descriptions.
"We consider ourselves experts in plain language, so it can be easy to miss these things," explains Sean. "This is why testing is so great. Research always surprises us."
With their learnings, the team was able to reframe the ballot questions with plain language and relevant and clear information.
shared learnings to empower more organizations
The CCD team believes the more people who can benefit from their learnings, the better. They publish a repository of resources and templates on their website with the hope of making it easier for any elections office team to design more inclusive, intuitive experiences too.
They cover topics like ballot design, plain language, accessibility, research and usability testing, information design, and more. The pocket voter guide is one example. (After seeing its success in the state of Massachusetts, the team created a template that other jurisdictions can follow to create something similar with their own community in mind.)
According to the CCD team, organizations have a responsibility to those they serve when it comes to upholding good design principles.

When language or design is confusing, it can inadvertently cause people to feel shame—like there's something wrong with them for not being able to understand what to do.
- Sean Isamu Johnson
"There absolutely shouldn't be shame," explains Sean. "Everyone gets confused by these things. We need to collectively have a zero tolerance policy for bad design so that we take that burden off of people and put it back on the user experience."
By sharing their learnings, the team hopes to make it easier for public-serving institutions to implement their own design practice.
Through better design and thoughtful language, institutions can serve up experiences that give hope, not hassle, and encourage civic participation from all who can.

photo: Sean Isamu Johnson