stories
More than a bike path
How Detroit's Joe Louis Greenway is bringing community members and city officials together to revitalize their city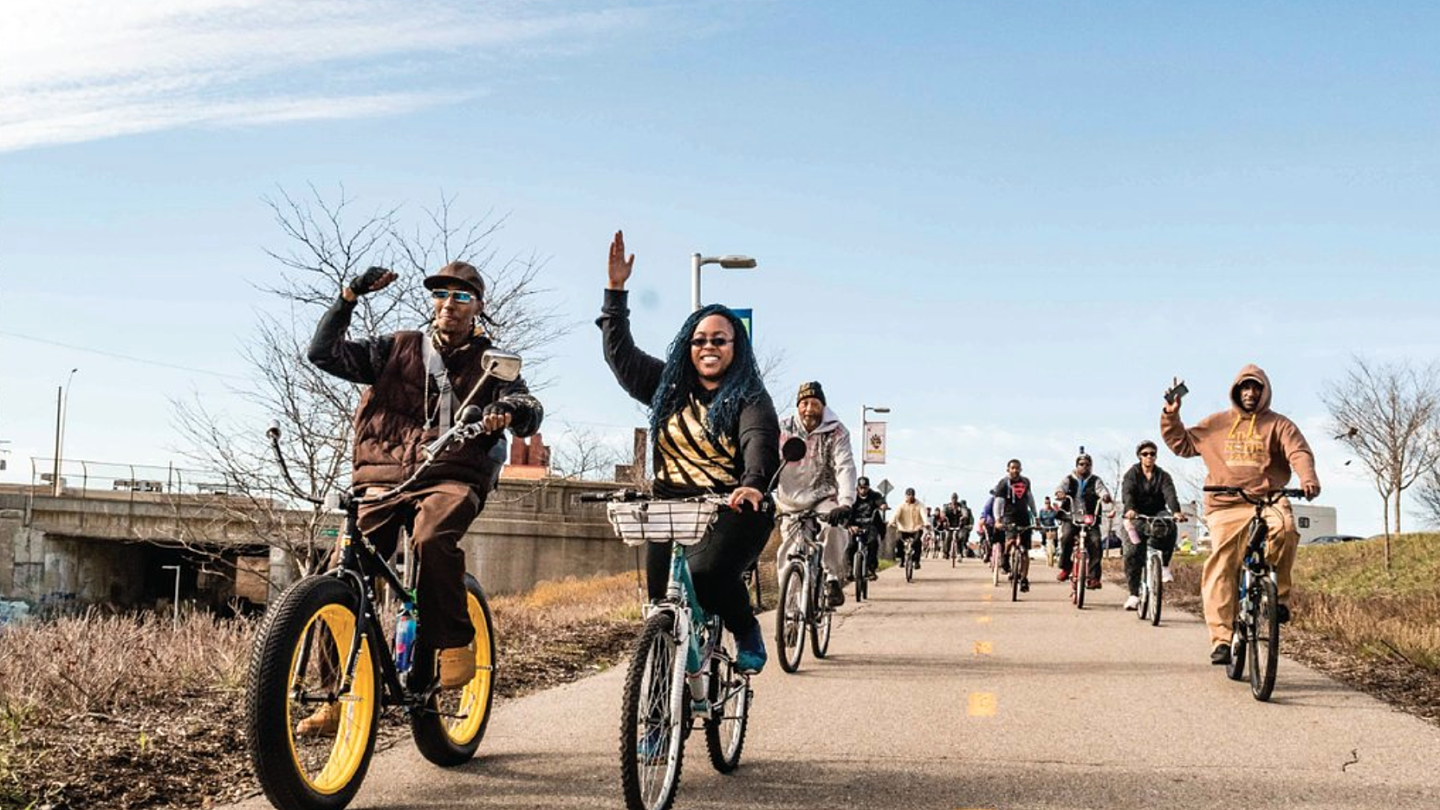 Shut down schools, shuttered businesses, vacant homes, and a food desert. After living in Detroit's Midwest neighborhood for 60 years, Ru Shann Long wanted her grandchildren to see a more beautiful version of the city they grew up in. So in retirement, she decided to do something about it.
She now works alongside fellow community members and city officials on a project called the Joe Louis Greenway. When complete, the 27.5 mile recreational path will connect 23 neighborhoods across Detroit with hopes of generating jobs and affordable housing, revitalizing neighborhoods and business districts, and easing mobility barriers that have challenged Detroiters for decades.

"It's an opportunity to reconnect neighborhoods, empower local residents, and provide people better access to things. It's so much more than just a bike path."
— Christina Peltier, Joe Louis Greenway Project Manager, City of Detroit
The path has taken shape, in large part, by community members—who the City has engaged and empowered to own the vision at every step along the way.
a community-defined vision
Because the Joe Louis Greenway has the ability to impact neighborhoods and residents in many ways, local officials believed active community participation was critical to its lasting success.
"There are so many amazing people who already know how to strengthen our community. We need to listen to them as much as we can and not assume we have all the answers ourselves," Christina Peltier, Joe Louis Greenway Project Manager from the City of Detroit, says.
Each phase of research and design centered around community outreach and input—ensuring diverse voices from across Detroit were represented in the conversation. The City created working groups with community leaders across the greenway's different areas of impact, like bike culture, green coalitions, and neighborhood block clubs. They also established a Community Advisory Council to give residents greater input and ensure each district was equally represented.
"Even now at the point where they've started construction, [the City's] still asking 'What would you like to see here?' — so much of it is driven by the community," says Ru Shann.
front porches, backyard fests
During community outreach, the City's focus on inclusivity meant that voices across Detroit had a chance to weigh in equally—with no one group or neighborhood calling the shots.
"Especially during a pandemic, not all Detroiters had access to the internet, so we met in person. We'd literally throw a banner over someone's front porch, bring out lawn chairs, and get the word out that way," shares Christina.
Informational materials were printed in Spanish, Arabic, and English—depending on the neighborhood.
During the meetings, Christina and her team collected feedback on what residents wanted to hear more about next time. That helped them get more topic-focused on things residents cared most about.
Meeting format was another major consideration.
"In some cases, folks don't want to attend a public meeting after work or a long day," she explains. "So we hosted a Harvest Fest instead, which was more of a community gathering near the greenway—pumpkins, little bonfires, all that. Residents could get their questions answered and we asked what they needed too."
learning from others
During the project's research phase, city officials, stakeholders, and the Community Advisory Council traveled to Atlanta to learn how a similar project (the Atlanta BeltLine) had taken shape.
They met with folks to discuss the project's impact on housing, economic development, maintenance, and a whole range of topics.
"One thing we had a lot of questions about was affordable housing," shares Ru Shann. "How do you bring in new development and also ensure that the people who live in the area today can afford to stay?"
What the team learned in Atlanta helped them come back with ideas about what they wanted to emulate—like the vibrant, distinct neighborhood artwork along Atlanta's path—as well as challenges that they might address differently—like relocating unhoused people more sustainably.
a tool for transformation
Armed with information and forums for engagement, Christina says she's now seeing residents use the greenway as a transformational tool to bring about even greater change to their neighborhoods. Groups are turning vacant lots into community gardens, getting areas rezoned, and pushing businesses to clean-up their properties.
Ru Shann and other community members even created their own nonprofit, The Greenway Heritage Conservancy and successfully lobbied for construction to start in the neighborhood they believed needed revitalization most.
"The greenway rolls through a lot of communities that haven't seen investment in a while. Seeing how residents are taking it and using it as a tool to bring about change—that's where I draw my inspiration from."
— Christina Peltier, Joe Louis Greenway Project Manager, City of Detroit
the path ahead
As The Joe Louis Greenway begins to connect Detroit's neighborhoods via transit, there's hope that it can provide connection in some less tangible ways too.
"My neighborhood is diverse. [The greenway] will give us a place to gather and connect, and keep some of those differences alive," Ru Shann shares. "Whether it's through activities or art—we'll have this channel running through the entire city that tells the story of each neighborhood, our history, and our cultural differences along the way."
Christina says as construction of the project continues, her team will continue working with residents to understand their needs and hear their voices.
As for Ru Shann, she's not stepping away any time soon either.

"Once you get involved, it's hard to walk away because this is just the beginning. Once you teach people that they can change their neighborhood—it just keeps growing. The greenway is just one piece of it."
- Ru Shann Long, Community Advisory Council Member