stories
"Why Don't We Try a Virtual Reality Simulation?"
Kevin Jones shares his experience in using technology to dramatically reduce staff turnover in the child welfare system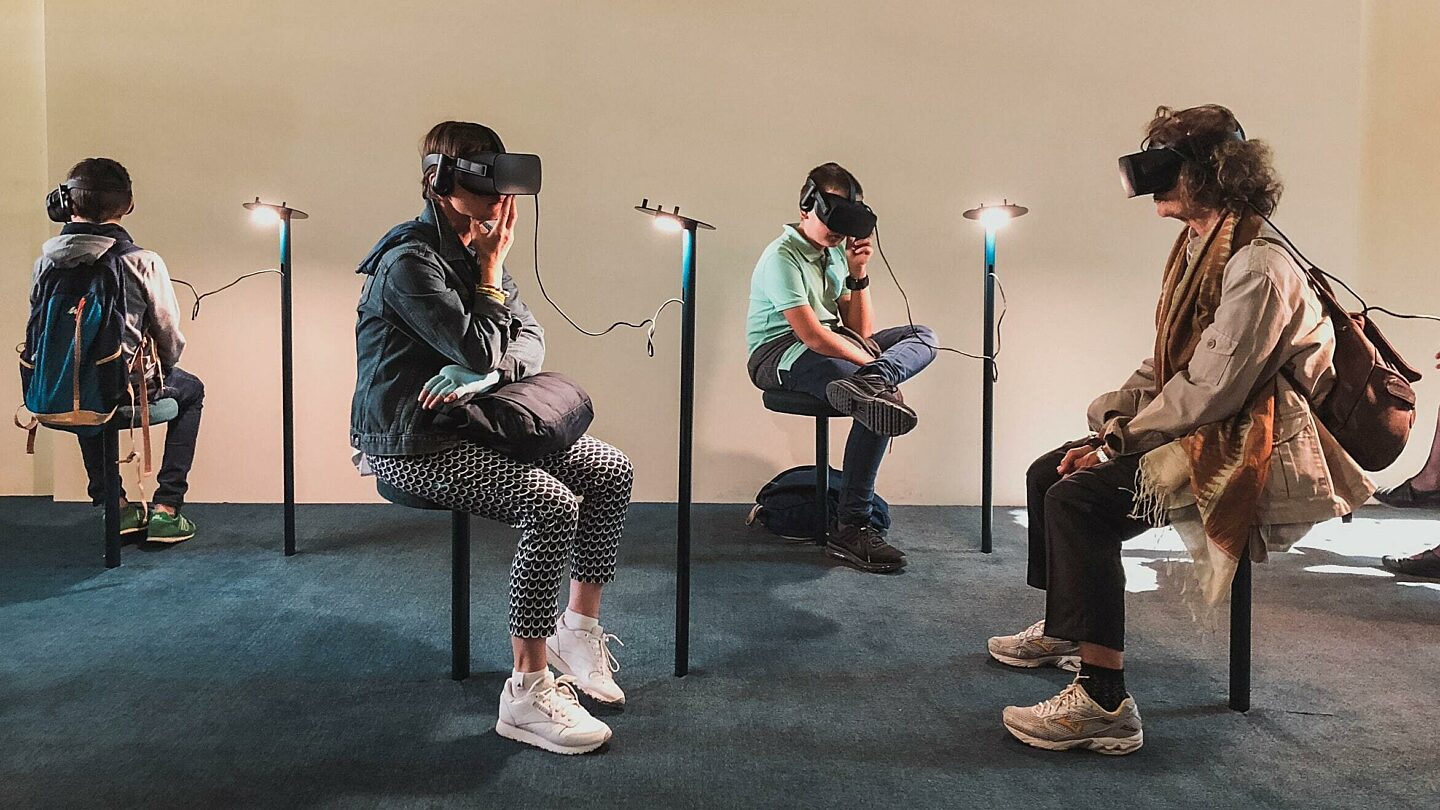 Kevin Jones is a changemaker with experience in both the public and private sector. As Indiana's Chief Innovation Officer for the Department of Child Services, Kevin's work impacted more than 25,000 children and families across the state. Today, he serves as Chief Operating Officer at CardinalityAI, where he hopes to bring what he learned in Indiana to other states and institutions around the country.
We sat down with Kevin to learn about his unique journey and what he's learned along the way.

Tell us a bit about your journey. How did you get your start in public service?
Kevin: When I look back at the things that brought me to where I am today, I'd say one of the most impactful has been my family. Growing up, my mom was a single parent—she struggled and fought to raise me and my sister without a whole lot from a financial standpoint. Despite all that, she provided a nourishing environment and taught us to believe we could do great things. She taught us to focus on education to improve our lives. For me, at a young age, that instilled this idea of continuous improvement—looking for ways to solve problems, educate myself, and up-level my skills.
Fast forward to today, I'm also the father of eight children. I've always wanted a big family. My kids have taught me that family is far more important than wealth. I was actually in the private sector before working for the state of Indiana—I ultimately made that move because I saw I could make an impact for families across the state. It was a perfect scenario that allowed me to apply all the education, experience, and training that I'd gotten up until that point and make a difference.
It sounds like family has played a big role in your story. Looking back, were there other experiences or mentors who shaped your path?
Absolutely. When I was 15, I became involved with the Center for Leadership Development (CLD)—a local group that helps minority children develop skill sets they wouldn't normally see in home. My mom worked hard, but I didn't see a dad or have a parent working as an executive or getting a college education. CLD helped me to see people like me doing those things.
One man, a business leader, took me in as a mentee—his name was John Thompson. We had the same background: African American, single parent mom, didn't have a whole lot. When I met him, he was a Vice President of Marketing and Sales. It was the first time in my life that I was able to see someone achieve success who didn't play basketball or football, or who wasn't dancing on a stage. I saw that I could have success with my brain and impact everybody—not just Black children, but also white children by showing them that Black people can do things other than play basketball.
We have to give people examples like that. Not just examples of 'you can do this', but also examples of 'you can see me as something different'. That changed me more than anything.

You've recently taken on a new role, what can you tell us about it?
I recently came onboard as the Chief Operating Officer at Cardinality AI. It goes along with my desire for continuous improvement, because this role is allowing me to take my learnings from Indiana and help scale them to other states and local governments.
I want to keep serving my fellow citizens. This role gives me a chance to stay in alignment with who I want to be, while also focusing on what I'm passionate about: technology. In particular, technology that helps serve the most vulnerable populations in our country. That's what I'm most excited about.

People don't often think about high-tech solutions when they think about the public sector. Can you share an example of a time you used technology to solve a problem while you worked for the state?
Back in Indiana, my director came to me one day and said "Hey, we have a 54% staff turnover rate in our case managers." That's about 4000 people—which is a very large number. I needed to solve that.
A lot of people just assumed it was about salary: "we're not paying them enough." But it's not always just about salary—I wanted to understand the problem more deeply before putting a solution in place.
I created an exit survey to analyze peoples' reasons for leaving. From the results, we learned three things. One, salary wasn't even in the top 10 reasons for people leaving. Two, over half left because expectations of the job prior to taking it were different from reality. And third, 40-50% left because there was too much paperwork and the sheer volume of the job. Solving the paperwork problem was part of a bigger project I needed to secure funding for. Knowing that, I decided to start small to prove that tackling this problem could have a good return on investment.
I said, 'If 54% of people leave because they don't understand the job expectations, why don't we try a virtual reality simulation before we hire them so they're not shocked on their first day?' My hypothesis was that, by showing what the job was like ahead of time, a simulation could help reduce the number of caseworkers who left and allow us to hire people who were a better fit for the role in the first place.
We worked with our tech vendor to create a virtual reality simulation and test it out in two counties. Candidates were exposed to a scenario where they had to go into a home and make a judgment about whether a kid should be moved out. It was meant to really pull you in emotionally.
In the first test group, there were 119 candidates we would have moved forward with prior to the simulation. Based on their ability to handle the simulation, we only moved forward with 59. Of those 59, only 32 accepted the offer—they also got an opportunity to say, 'this isn't the job I wanted or expected.' A year later, 90% of those people are still here.

Wow, talk about a powerful change. What would you share with others who are looking to create a similar impact at their own organizations?
It's important to be able to step aside and realize that your users are the ones who ultimately inform what you build. Not you. You may be responsible for pushing the work forward and pushing for change, but what that outcome actually looks like should be inspired by the real people behind it—the foster parents and families and frontline workers.
Listen to their feedback and pain points, and let that shape the work. Even if it goes in a direction you didn't expect.