stories
"You can use bureaucracy to fight bureaucracy"
Marina Nitze shares what she's learned about hacking bureaucracy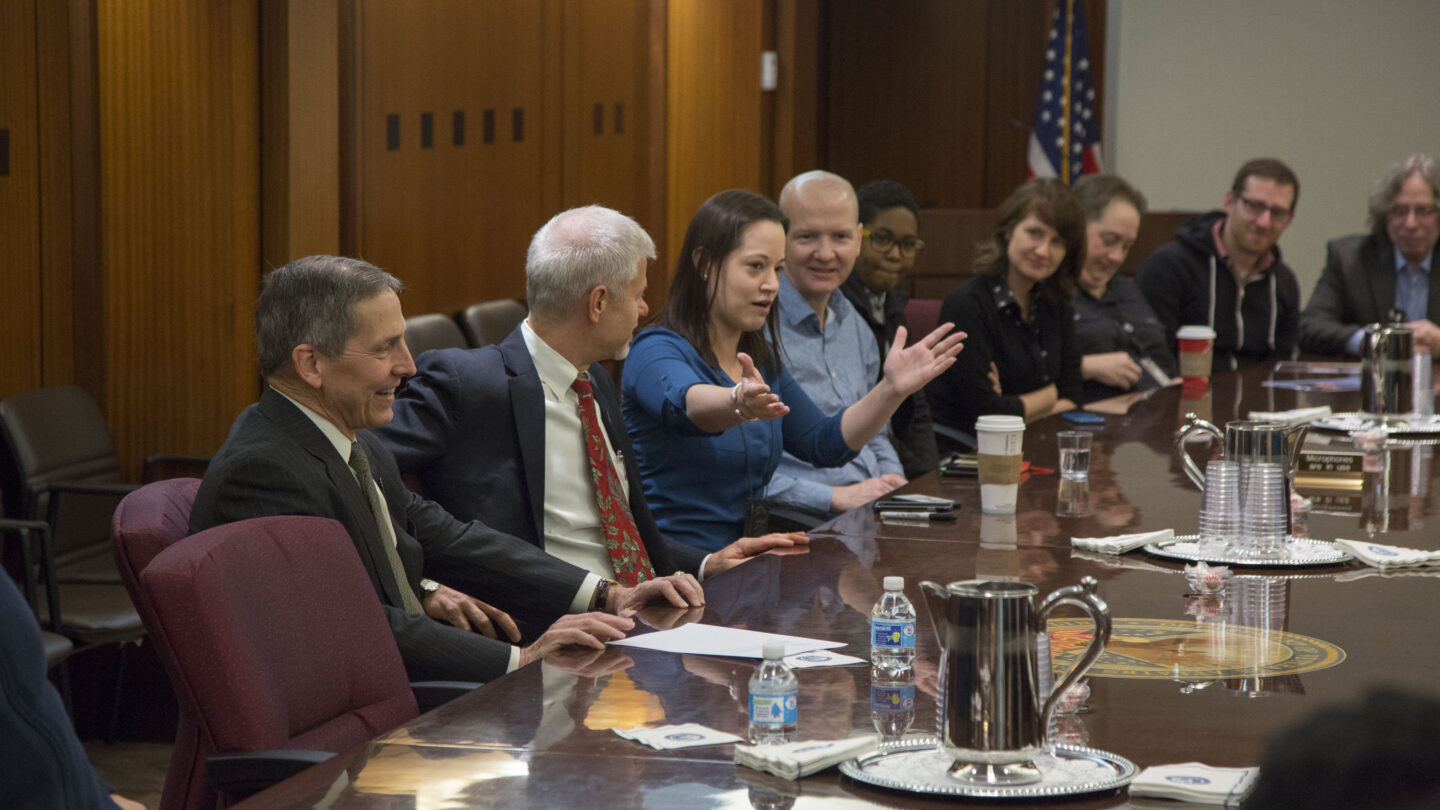 Marina is a changemaker who's drawn to tackling the tough stuff. Under the Obama Administration, she worked as Senior Advisor to the US Chief Technology Officer and then spent years as Chief Technology Officer at the U.S. Department of Veterans Affairs (VA). There, her work improved access to benefits for more than 20 million veterans across the country. Today, Marina's using her experience to bring change to the foster care system. She also leads her own IT crisis consulting firm, Layer Aleph, where she partners with institutions and brings human-centered design to the table.
We sat down with Marina to hear about her journey and what she's learned along the way.


Tell us a bit about your journey. How did you get your start in public service?
I've always loved taking complicated processes and figuring out how to make them more simple. I did a lot of that in the private sector in my early career. The big inflection point for me was when I joined the federal government.
I was living in Seattle at the time and working on one of the Mayor's Advisory Boards, working with them on issues related to tech and open source data. One day, I saw a video with Todd Park—the US Chief Technology Officer— talking about how he was looking for some tech-savvy entrepreneurs to come in and disrupt government as part of a new White House fellows program. I didn't think I'd be qualified for it, but I sent in a resume anyway. A few months later, I got a call offering me a fellowship spot. There was one catch: It was Thursday and I had to be in DC to start the following Tuesday. It was just crazy enough that I was like "OK, I'll do it."
After my fellowship, I was hired to work in the White House in the Office of Science & Technology Policy. The week that I started, the VA was all over the news because their offices were buckling under the weight of unprocessed disability claims for veterans. President Obama was like, "We need to do something about this."
I started attending weekly meetings and immediately fell in love with the problem. It's not like the system was being designed maliciously or the VA wanted to keep veterans from getting their benefits. There had to be something else at the heart of the problem, and I wanted to help solve it.
I spent the next six months flying around the country visiting VA medical centers, talking to veterans and staff to understand how claims were actually being processed and how we could do better. Because of that work, I was brought on as CTO for the VA. I spent 5 years there helping to bring human-centered design to the table and reimagining a more unified, helpful experience for veterans.

That's quite the journey. What projects throughout your career would you say you're the most proud of?
Definitely the VA Health Care application. When I started at the VA, we were getting about eight online applications a month. People's explanation for this was, "Oh, veterans don't use the internet." Meanwhile, there was a warehouse with 800,000 pending paper applications that hadn't been processed because staff just didn't have bandwidth.
An article came out in The New York Times saying over 100,000 veterans had already died waiting for health care—which is pretty bleak. I thought the online application could help us serve more veterans more quickly, so began to look into it. I started by simply trying the application myself. When I went to open it on my computer, it didn't work.
The problem was, the application was only compatible with extremely old computers. The reason only eight veterans could ever get through was because no one that had a computer that old. I started telling people across the VA it was broken, but they'd spent a lot of money on the online application already and didn't fully trust or believe what I was saying. The incentives just weren't aligned to fix it.
So to make my case more impactful, I tried a different approach: putting the end user first. We filmed a veteran named Dominic (with his permission!) trying and failing to fill out his online application for healthcare 12 times. Dominic was funny, smart, and most importantly: tech-savvy. He still couldn't complete the application. The video took off like wildfire among our stakeholders and decision makers.
Bringing the end user front and center was critical—it helped gain alignment and buy-in to devote resources to the problem. We built a prototype and tested it with veterans to get their feedback. Dominic was one of our user testers too, and he said "I'd use this new online form over anything the VA currently has to offer." That was really powerful political capital, which helped us ultimately launch the new application. When we did, the volume of applications skyrocketed. To this day, 1.5 million veterans have used the new online system to instantly enroll in healthcare.

It sounds like perseverance was a big part of making your case. When you get pushback or are met with skepticism, how do you stay motivated?
I think it's really important to keep a north star top of mind. When I started at the VA, I had no money, no budget, and no team. I was told that my job description was to "redefine the idea of what's possible in how America honors and serves its veterans."
I found this picture of a woman having a picnic on her [veteran] husband's grave with their baby. I kept that picture on my desk. I felt that, if that man gave his life for me, the least I can do is make sure that his son or daughter gets every last dime that they're eligible for—for higher education benefits, survivor benefits, and anything else.
Seeing that picture every day was a huge motivating factor. It inspired me to lay out my 21st century VA vision and keep working towards it. That vision had about 50 goals on it—when I left the VA, we'd accomplished all but two.

That's a really powerful example. What else do you do to keep the people you serve front and center?
I go out and spend time with them. It's the best way to understand what they're actually experiencing. You get perspective and insight that you literally can't get anywhere else.
One of the most impactful moments in my career happened on a bench outside the VA. I struck up a conversation with the woman next to me—her husband had been going blind. They'd never been to a VA before because they didn't think they qualified. One day a doctor asked: "Why aren't you going to the VA for this? I think you'd be covered." They went to the VA, and the husband ended up getting surgery there that saved his eyesight—all for free. They ended up staying at the VA for 9 months, and spoke very highly of the experience.
At the end of the conversation, I asked the woman, "What other VA benefits have you taken advantage of?" She responded, "What other VA benefits are there?" That was an eye-opening moment for me. They'd lived at the hospital for 9 months and weren't even aware that the VA has 82 other benefit lines—many of which they were eligible for.
That prompted us to start digging into the data. We found out that 50% of veterans who have PTSD and get disability payments for it aren't enrolled in healthcare treatment for it, which they also qualify for. On the flipside, many veterans who were getting healthcare treatment for their PTSD weren't getting the thousands of dollars a month, tax free disability claim benefits that they're entitled to.
The disconnect just blew me away—and that's when I started asking myself: "How do we change the VA from 83 disparate offices to 1 VA that our veterans interact with?"

What do you wish that people knew about government that's not often talked about or told?
It's actually very possible to make big changes in government, but government isn't designed to change quickly and so you can't try to do that. Instead, you have to use the systems in place. You can use bureaucracy to fight bureaucracy. I have a lot of stories about this in my new book, Hack Your Bureaucracy.
I see this happen all the time. People who are new to government will come in, run into some red tape, and try to find "an exception to the rule"—that's not how it works. You don't want an exception to the rule because when you skirt around the rules, it's a lot easier for the next person to undo your work. Then you're right back to where you started, if not ten steps back. It's a frustrating cycle.
It takes patience, but it leads to lasting change. You're not going to get there by skimping on a form or skirting around red tape. You'll just get frustrated.

If you could leave folks with one piece of advice, what would it be?
Just start somewhere. One of my favorite stories is how a team from the Department of Education changed President Obama's mind with a prototype that they drew on a piece of paper from the garbage. They were working on a college scorecard project and wanted to collect feedback from real college students. So they walked around the National Mall one afternoon and started talking to students they saw. To test out some of the ideas they were hearing in these conversations, they literally pulled a few pieces of paper out of a garbage can, drew up a prototype, and asked the students to point to things that were or weren't working.
You can draw on a piece of paper. You can stand outside and talk to real users. There are so many tools and practices today that make it possible to start designing the changes you want to see in the world, a little at a time.