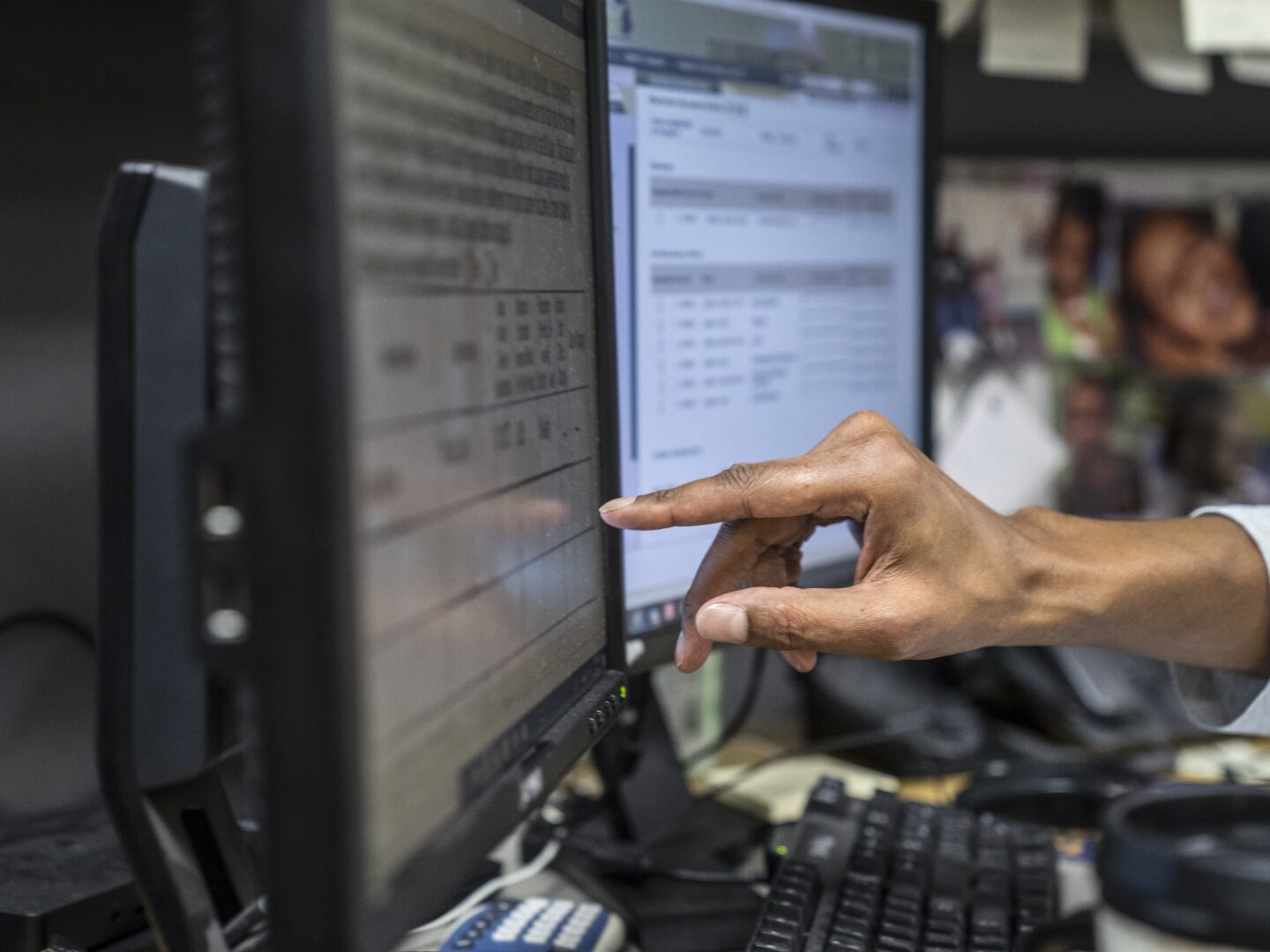 Online Enrollment
Modernizing online enrollment for Michigan's largest benefit programs
background
more than a million people apply for public benefits in Michigan online each year, but the legacy application created barriers for low income residents across the state
context
The Michigan Department of Health and Human Services impacts nearly every resident through its programs and services
The largest of these programs support 2.5 million people every year by providing access to public benefits, such as healthcare and food assistance. While 50% of people attempted to apply online, the legacy application was long and complex requiring over 45 minutes to apply.
the challenge
A cumbersome application process burdened both residents and frontline staff

This resulted in unnecessary delays, imposed costs on residents, and drove significant calls and foot traffic in local offices. With growing budget pressure, the State has been increasingly asked to do more with less: today's average caseloads exceed 640 per caseworker. The department must deliver high-quality customer service while delivering benefits efficiently. In partnership with MDHHS, Civilla set out to modernize the online enrollment process for the state's largest benefit programs.
The legacy application
The legacy application wasn't easily available through mobile phones, creating a significant barrier for the 25% of low-income households who rely on a smartphone for internet access.

Our goal was to design an online service for residents to manage their benefits – and equip staff to provide efficient customer service
research
Our team worked with the State to adopt a new way of working that brought people's needs into the center of the process
the research process
Before the strategic roadmap was set, Civilla conducted research with residents and frontline staff to ensure the product was rooted in a deep understanding of their needs
Research spanned the full enrollment process: applications, renewals, document submission, change reports, correspondence, and post-eligibility support.

Resident needs
online enrollment needs to fit applicant's busy lives
Due to the system's poor design, people didn't feel safe and secure submitting their information online. This meant residents often had to miss work or find childcare to go into the office to complete paperwork. Without updates on their application status, people weren't able to quickly ask questions or track their case through the process.

It's hard with two kids – getting on the bus and bringing them to the office. A lot of times they will interrupt. I need to be able to do this at home whenever my kids are sleeping.
— Resident, Michigan
frontline staff needs
staff want to focus on getting residents approved quickly and fairly

In order to determine eligibility, caseworkers needed to fully understand the resident's situation with accurate information. The online system needed to provide clear, specific guidance for residents to complete their paperwork correctly and on-time. This would free staff to focus on approving applications, rather than fielding questions and chasing after missing materials.

People call or come into the office to check on their case all the time. It happens so often. There's a lot of confusion about where things are at and what the next steps are.
— Caseworker, Michigan Department of Health and Human Services
design
Civilla worked alongside MDHHS and their technology vendor to design a new online enrollment portal
collaboration and iteration
Rather than building the product linearly, we designed it in much shorter, faster cycles

We began by creating wireframes and mockups to prototype how the new technology would work, look, and feel. Building on insights from field research, the team designed a portal that's simple to use and easy to understand.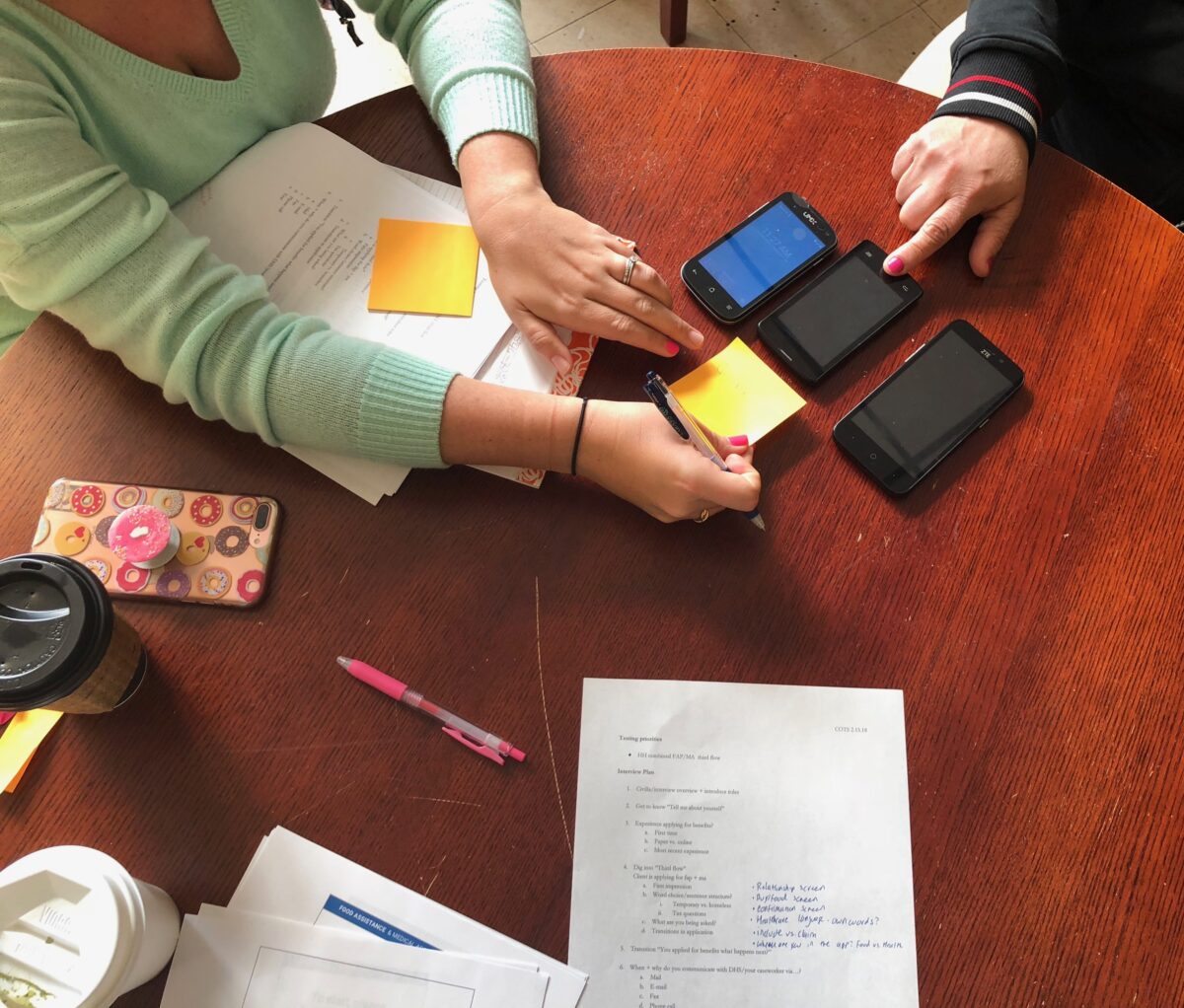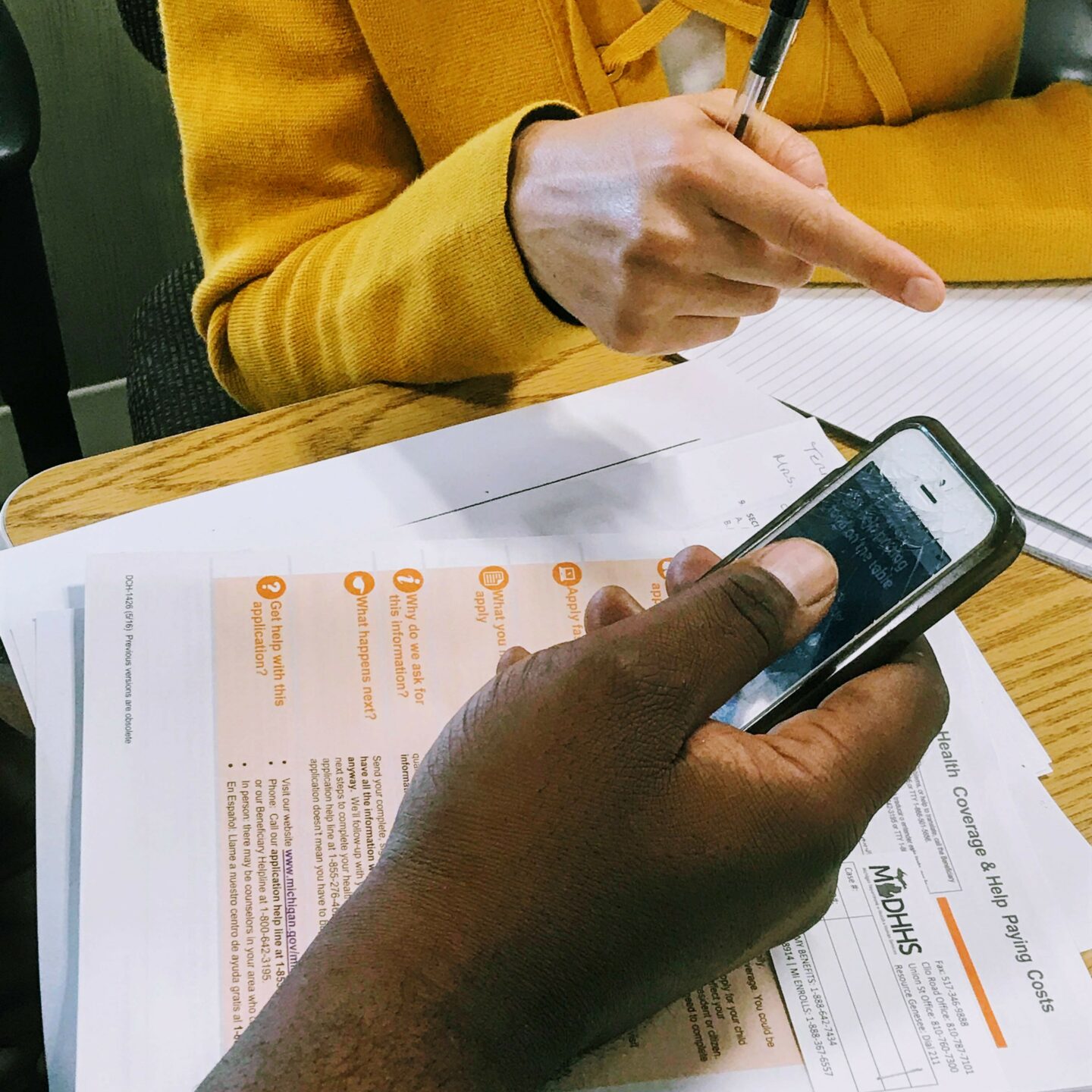 The team aimed to design a system that:
1. Worked well on mobile phones
2. Was a one-stop-shop for all programs and actions
3. Was accessible for people with differing needs and abilities
designing for mobile first
the new portal is designed using mobile-first patterns
Copy is written in warm, friendly, plain language. Screens are designed to prioritize tapping (vs typing) as the simplest mobile interaction. Questions are organized thematically to build clarity and provide context. Large tap targets and wide buttons are easy for users to interact with. And confirmations and next steps are clearly indicated.
the new online portal supports people in successful and efficient enrollment across the full life cycle of a case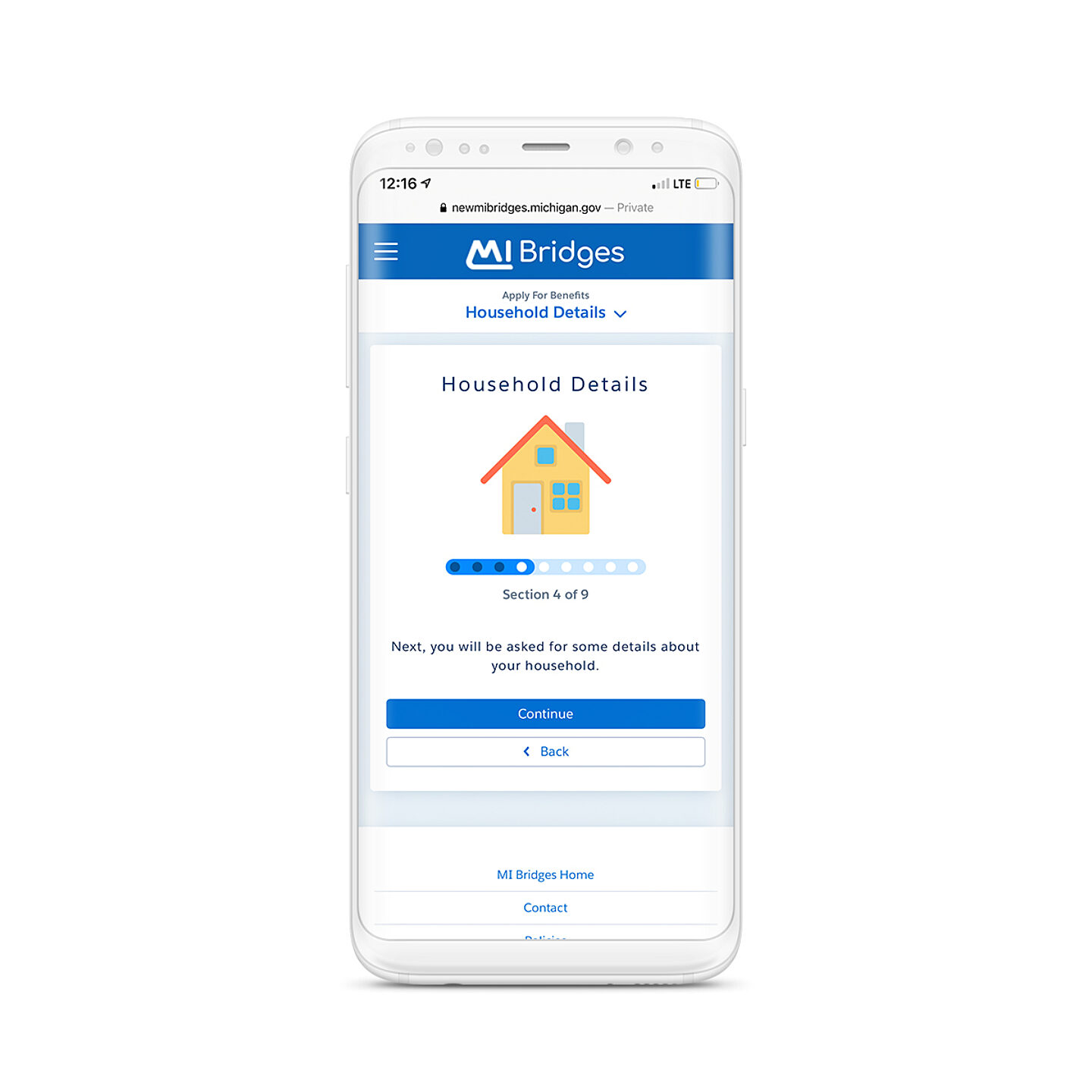 apply and renew online

+

An online application and renewal enables residents to submit their information easily from their mobile phone.

upload documents

+

The ability to upload documents online reduces the need for residents to print, scan, fax, and bring physical paperwork into the office. Documents upload directly to the case file for easy processing by staff.

report changes

+

A simple flow enables residents to report changes in their household's circumstances throughout the year, reducing the need for phone calls and paper reporting.

community resources

+

In addition to the State's primary benefit programs, the portal connects residents to hundreds of programs that are available through local community organizations. The system enables people to search for resources nearby based on their needs, and then sends a direct referral to ensure a successful connection.

post-eligibility support

+

After residents are approved, the system guides people on how to use their benefits. From connecting to child care providers to selecting a healthcare plan, this ensures residents know how to fully access the benefits they are eligible for.

text message reminders

+

Residents are able to easily opt in to text message reminders directly from the dashboard to ensure they receive updates on their case.
That was amazing! I did the app on my phone and finished in 10 minutes. It's easy to see and understand. I feel confident that I filled it out correctly and will be able to get the support that I need.
— Resident, Michigan
impact
The redesign's impact is clear: Residents are able to easily apply, submit documents, report life changes, renew, and manage their benefits
2.7M
people now managing their benefits online
50%
decrease in time-to-apply online
75%
users opted in to text message reminders
650K
text message reminders sent to help people manage their benefits
1300%
increase in documents submitted online
6M
documents submitted online to date
600K
referrals sent to connect residents with additional benefits
People used to come into the office all the time because they were confused about what was happening with their case. This portal is so much better – its simple, understandable, fast, and to the point!
— Caseworker, Michigan Department of Health and Human Services
conclusion
Since rolling out statewide, over 2.7 million people and 4,000 community organizations have used the portal to manage benefits
The site set a new standard for benefit delivery nationwide
It was lifted up by Code for America as one of the strongest benefits applications in the country. It received recognition for IT Solutions Management as Best Use of Technology for Customers at APHSA and was an award winner for the IDG 2019 Digital Edge 50.
Michigan's proactive investment in modernizing technology had an immense unintended impact, too. When the COVID-19 pandemic hit, residents were able to manage and maintain their coverage remotely, keeping themselves and others safe.

The new enrollment portal transforms the way MDHHS supports people. It helps us achieve our goal of providing efficient, effective and accountable government services to Michigan.
— Nick Lyon, Former Director, Michigan Department of Health and Human Services